RAMONES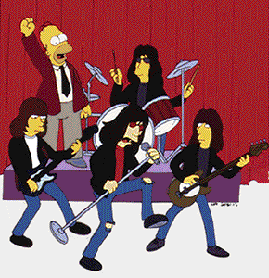 Ramones is group from Forest Hills, New York. They started to play as trio in March 1974 and they quit in 1995 with their last
album ADIOS AMIGOS Later now Marky has new bands called "Marky Ramone And Intruders and "Marky Ramone group, CJ had Los Gusanos , after CJ started Warm Jets. Also guys played on "Remains/Ramainz At first line-up was Dee Dee Ramone, CJ Ramone, Marky Ramone and Dee Dee's new wife Barbara Zambini. Dee Dee has released many solo albums and also Joey planned to release album, but then he passed away and ...
It happened April 15th, 2001. Joey Ramone passed away afternoon 2.40PM in a hospital in New York City where he was many weeks being treated for cancer. Arturo Vega wrote to me that Joey's loving family was there at his bedside. On his last moments Joey listened U2-song: In A Little While.
The Ramones were later hailed as 'The Beatles of punk rock' for defining punk before punk took off.
Best Record: I dont know but if u really like try the Ramones Anthology.
RAMONES:
LAST Members:
Joey Ramone, Lead Singer
Johnny Ramone, Lead Guitar
CJ Ramone, Basist
Marky Ramone, Drummer
EX Members:
Dee Dee Ramone, Ex-Basist
Tommy Ramone, Ex-Drummer
Richie Ramone, Ex-Drummer
itchie Ramone, Ex-Basist
Clem Burke, Ex-Drummer
Billy Rogers, Ex-Drummer
Here are the line ups:
1974-1978
Joey Ramone (Lead vocals)
Johnny Ramone (Guitar)
Dee Dee Ramone (Bass, vocals)
Tommy Ramone (Drums)
1978-1983
Joey Ramone (Lead vocals)
Johnny Ramone (Guitar)
Dee Dee Ramone (Bass, vocals)
Marky Ramone (Drums)
1983-1987
Joey Ramone (Lead vocals)
Johnny Ramone (Guitar)
Dee Dee Ramone (Bass, vocals)
Richie Ramone (Drums)
1987-1989
Joey Ramone (Lead vocals)
Johnny Ramone (Guitar)
Dee Dee Ramone (Bass, vocals)
Marky Ramone (Drums)
1989-1996
Joey Ramone (Lead vocals)
Johnny Ramone (Guitar)
CJ Ramone (Bass, vocals)
Marky Ramone (Drums)
Thanks to Jari-Pekka Laitio , for share his/her Ramones expiriences