Joey Ramone

The Godfather of PUNK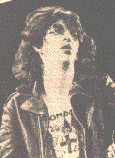 Real name:
Jeffrey Hyman
Date and place of birth and R.I.P *Sniff*: May 19.1951, Forest Hills, New York / April 15, 2001, New York
Mother and father: Noel and Charlotte (Divorced)
Brother: Younger brother Mitch, he is a guitarist
Ramones career: Been all the time on The Ramones and go on but, started as a drummer, but Tommy become a drummer and let Joey sing.
Sing on official Ramones-albums: On every.
Something else: Joey did DJ-jobs also. He liked of the cats. Joey used nearly always sunglasses.
Joey Ramone passed away April 15, 2001, afternoon 2.40PM in a hospital in New York City where he was many weeks being treated for cancer. Joey's loving family was there at his bedside.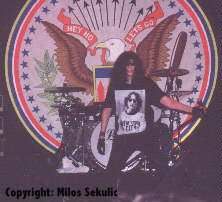 R.I.P
Joey ramone 1951-2001