Reviews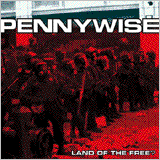 Land of the free? by pennywise
Ok this is a great record they show that they really are Punk`s and they know how to make music I think this is the best record from the Hermosa Beach band check the song Fuck Authority, the video is great also u can check great song about how the government and the religion fuck your mind and your money is a great record I give this a 9 out of 10.

Time is the distance by DEVIATES
With the launch of this record now they are in the top of the punk scene I just can tell u, this is a perfect cd for have in your collection. I give this an 8 out of 10.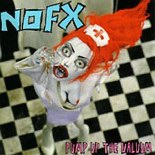 Pump up the valuumn by NOFX
This is the last album of NOFX I think the album can be better if they stop to talk too much about the drugs I dont know I think is great the only problem is that but is their live so I think the sound is great bottles to the ground is one of the best songs that I hear since what ever Didi wants umm I think they can make it better but is agreat album if u really like NOFX u have to buy this album. I give this 8.5 out of 10.

Look what I almost stepped in... by The Vandals
Ok this is a great album I`m proud of them I think they show with this album that they are a great Punk band and they are great musician they really made a jewel in the punk history with funny songs but I think maybe the true like in 14 or in jackass and in the great sont Behind the music I think this album kick ass if u dont have yet go right now and buy it.
I give this a 10.

All killer no filler by Sum 41
If u like the skate punk this album is for u, when I hear this with my cousin he told me " hey dude this is agreat album buy it" so I buy it and now I`m a Sum 41 fan I dont care if the people tell me hey dude they are sell out I think they do a great work the Canadians dudes made one of the best song for this Punk generation Sum 41 rules.
I give this a 9 out of 10.

Go by H2O
Damm another great work from the NY guys one of my favorites Hardcore and Strait edge bands in this CD they explote the capacity of make lyrics with a great music I think is a perfect son of FTTW is a great band and a great CD, they change record company (I dont know why) but they dont change the music always great I catch them in the SF Warped tour and they were great I give this an 9 out of 10.

Covered with ants by Guttermouth
Umm is not a masterpiece but is good especially if u can check Can I borrow some ambition? and Secure horizon but those song u can find it in the Punkorama`s 5 and 6 so if u like Guttermouth u better buy the Punkorama`s cuz are better.
6.5 /10.

Stand your ground by Madcap
Ok I think is their first Cd and they Kick ass with this cd is just great one of the best cd`s in 2001 and one of the best songs in 2001 is in this cd " Going on the road" but is more u have to hear this Punk cd cuz this is Punk music.
9.5/10.

End is forever by The ataris
Another great cd by the ataris and by Kung Fu records yea maybe this is the year of Kung fu records the best record of this year come from that label lets better wait to see what drive thru and Epithap have to show, so this another great cd of
the ataris maybe no their best one but is great.
8.5/10

Take off your pants and Jacket by Blink 182
O the mtv sold out dudes made another crap umm but this one is better than the last one if u like the old blink maybe u can listen to this cd cuz I think they made a good work.
8/10

The Ditillers by The Distillers
Hell yea if u like punk go to buy this one right now one of the best albums that I ever hear in my life and Brody is perfect so the frist album of the distillers is gonna kick ass and I love Brody.
10/10