X

X is one of the greatest bands to grace this planet. Unfortunetly they've never gotten the true credit they deserve. Except in California where they were in L.A. Weekly's(1988) top 10 list of bands to come out of Los Angeles. They stated off back in the late '70s in Los Angeles, at least I think so. They were a prominent part of the punk scene throughout the '80's. After working on seperate projects for a few years, X got together and released a couple of CD's in the 90's. I guess you call X a punk band, but I've always thought of them more as rock-a-billy, very cool and rocking. John and Exene's solo projects are more country/folk. Not to mention they both contributed to each others solo projects, and were married at one point. Other that that I don't know much about X gossip, nor do I care to, facts be facts, X is a great band.
I was fortunate enough to see them play live in the summer 1993 when I was out in L.A. My brother-in-law got my two sisters and I tickets for the Tonight Show (Jay Leno) with X playing! Then I was back in L.A. during the winter of 1994 and saw X play out in Ventura. Unfortunetly X doesn't seem to play on the east coast (or for that matter outside of California). Good fortune came my way and I saw The John Doe Thing play in Baltimore last week (March 1998), great show, John Doe kicks ass. Then I got to see X play at the 9:30 Club in DC, June 1998.
The original line up:

Billy Zoom - Guitar

John Doe - Bass, Vocals

Exene Cervenka - Vocals

D.J. Bonebrake - Drums
With this line up they made some great music:

We're Desperate/Adult Books, 1978 (45)

Los Angeles, 1980

Wild Gift, 1981

Under the Big Black Sun, 1982

More Fun in the New World, 1983
All produced by Doors organist, Ray Manzarek. And in 1981 they appeared on the album and video, URGH! A Music War playing the song "Beyond and Back".

Ain't Love Grand, 1985

Poor Little Critter On the Road, 1985 (as The Knitters)
Shortly after Ain't Love Grand was released, X release an album as their country alter ego, The Knitters. Billy Zoom left the band and was replaced by Tony Gilkyson for their next album as X. The line up for the Knitters saw the addition of Dave Alvin, Jonny Ray Bartell, and Ethan James. As the Knitters they had a song appear on the album, Radio Tokyo Tapes, vol. 3. They also were featured in the movie, Decline of Western Civilization, a punk rock documentary from 1980.

See How We Are, 1987

Live at the Whisky a Go-Go on the Fabulous Sunset Strip, 1988
Both produced by Alvin Clark. Also in 1988 the music for the short movie, Tracks was by X. I had the good fortune of going to the premier of the film, too bad X didn't show up. But some folks from Mary's Danish and I think Thelonious Monster were there. Note, it was a very odd movie.

hey Zeus!, 1993 (produced by Tony Berg)

Unclogged, 1995 (produced by X)

Beyond and Back - The X Anthology, 1998 (produced by DJ Bonebrake, Exene Cervenkova, Tom Desavia, John Doe and John Roecker)
Currently X is playing from time to time on the west coast. Also the Knitters are playing shows and are possibly going to release another CD. Exene is playing solo as well as John Doe as the John Doe Thing, with DJ Bonebrake on drums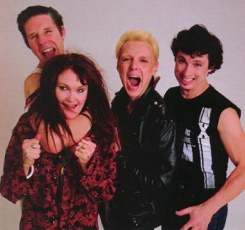 Times article."It's Done. We had such a bond, but the band had evolved too far away from it's punk roots for me." In October 1997, X released the retrospective BEYOND AND BACK. This 2-CD compilation includes demos, live recordings, rehearsal numbers, and studio tracks; according to Exene, in a Billboard magazine interview, the album's crude, unfinished quality makes it especially timely when compared to today's overproduced music."I think that the culture sucks again, just like it did when we started," she says."With the Rolling Stones and Fleetwood Mac being the biggest tickets right now as a concert, it's totally~ianh/x/x_98.html" perfect for this record to be released at this time. When you listen to KROQ [Los Angeles] or watch MTV, you realize that everything is artifice and crap. It's the same stuff we were fighting before. " In February 1998, original guitarist Billy Zoom rejoined X for a mini reunion tour with shows in San Francisco and Los Angeles. X joined the 1998 Fleadh Fest and played several more shows in the months that followed. In 1999 the reformed band playing several shows in cities that included L.A., San Diego, and Las Vegas. The end of 1999 found Exene, John Doe, and D.J. Bonebrake touring with the reformed Knitters. Billy Zoom currently lives in Orange County (CA) and runs an amplifier repair business.
X is: Exene Cervenkova - Vocals
John Doe - Bass, Vocals
Billy Zoom- Guitar
DJ Bonebrake - Drums
Tony Gilkyson-Guitar
Best record: Beyond and Back - The X Anthology, 1998