Agnostic Front

Members:
Roger Miret-Vocals
Mike Gallo-Bass
Vinny Stigma-Guitar
Jimmy Colletti-Drums
Ex members:
Adam Moochie (bass)
Ray Beez (drums)
Rob Kabula (bass)
Alex Kinon (guitar)
Louie Beatto (drums)
Steve Martin (guitar)
Alan Peters (bass)
Will Shepler (drums)
Craig Setari(bass)
Matt Henderson (guitar)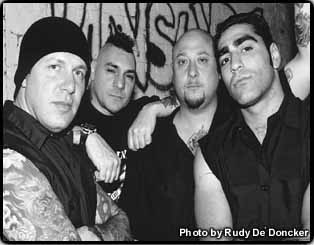 NewYork City in the early 1980's, the punk rock scene was breaking off into a new direction. The new vibe was a heavier version of punk. It was angrier, louder, faster, and more real. It had a raw street sound. This was hardcore punk. The scene was small and tight knit, and Agnostic Front was one of the pioneers of this new music. In 1982 the "United Blood" EP was released.
The intensity of these early recordings are still felt today, almost if they were just released. Next came the first full length album for A.F. titled " Victim in Pain"". Which was followed by a full U.S. tour. The tour carried the name Agnostic Front and their raw NYC style of punk across the country. Years went by and other recordings followed, such as "Cause for Alarm", "Liberty and Justice", "Live at CBGB's", "Last Warning", and "One Voice." Members of the band changed, so did the music, but not the attitude. Sometimes attitude is not enough. In 1992 Agnostic Front had to take a break. So, they called it quits for a while. Roger was having legal problems, as well as trying to raise his daughter. Vinny went to go play for the band Madball. Finally after four years it was time to regroup and reform A.F.
This time they would use old members, Kabula and Jimmy were brought back into the fold. Some shows were played, and the feeling was like the Victim in Pain Tour II. Also a new recording was released. In 1998 "Something's Gotta Give" was released on Epitaph Records. After seventeen years Agnostic Front is still going strong and will keep recording and touring. Even though Agnostic Front faces much adversity the are still a force in hardcore music.
Influences :Bruce Lee, Charles Bronson, Clint Eastwood, Frank Sinatra, and Black Sabbath
Best record: Im not a Agnostic Front fan but I think Riot, riot upstart is a great Record.

(click in the image to go the agnostic offical page)