Goldfinger

Goldfinger formed with it's original line-up in 1994. John and Simon worked together at NaNa's shoe store in California. They decided to form a band and needed a drummer, so they asked Darrin who was working at the local Starbucks, to listen to a tape they had made. The day he heard it he was air drumming along with it all day, he loved it! At this time, Goldfinger's original guitarist left to the band to become a pro surfer in Costa Rica, where he still lives. John had a good friend named Charlie who played guitar and he thought he would be a great replacement on guitar.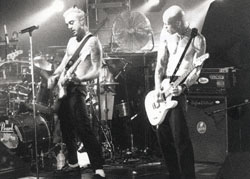 Charlie's first show with Goldfinger was a little hectic, he was given a tape of the songs on Friday night, practiced with the band on Saturday and played a show that night. Goldfinger were now recording their Demo EP called "richter", it was given amazing reviews and they were getting good indie/college radio airplay. Goldfinger were now given the oppurtunity to record the S/T debut LP. They recorded the cd in 1995 and it was released in spring on 1996, their first single/video "Here in your Bedroom" was played at a high rate and they gained in popularity. Goldfinger also released videos for "Mable" and "Only a Day".
In 1996 Goldfinger played more shows than there are days...they toured with such bands as the Sex Pistols, No Doubt, Vans Warped Tour, and Reel Big Fish. In 1997 Goldfinger released their second LP entitled "Hang-Up's" their first single "This Lonely Place" was not as big a success as the release of "Here in your Bedroom", but it did give them numerous live talk show apperances and spins of the video, which is a play on "Alien". Goldfinger also released a video for the single "More Today than Yesterday" a cover of the Spiral Staircase song. Which can be found on the "Waterboy" soundtrack.
In the summer of 1998, Simon left the band due to musical differences. He was replaced by John's old band mate from the Electric Love Hogs. And more recently the bassist for 22jacks a band that opened for Goldfinger on many tours. Goldfinger Released their second EP in the Fall on '99 called. "Darrin's Coconut Ass-Live From Omaha" The EP contains 8 songs which are all covers. In the Spring on 2000 Goldfinger released their 3rd LP called "Stomping Grounds" the single in North America was "Counting the Days" while Europe was invaded with "99 Red Balloons". The band has been touring since the release of Stomping Ground with such bands as: Eve6, Showoff, BloodHound Gang, and Mest....
Best album: um I think Hang up`s and the best song Superman