John Doe

Name:John Doe
Real Name:John Nommensen Duchac
Band former: X(vocal & bass), the Jhon Doe thing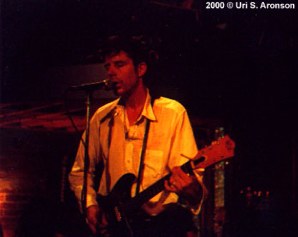 (for those a little slow or in need reminding)
John Doe (is that your real name?) was made in Los Angeles in Jan. or Feb. '77 after an exhausting trip from Baltimore on Halloween '76. He settles in Venice, CA. ('cause that's where the Beats lived), goes to the Venice poetry workshop and meets Exene. X band starts, record a single, gets more popular (1979 there was a line around the block @ the Whisky), signs to Slash Records and by 1981 the L.A. "punk rock explosion is all but over. X's first two records have poetry & hard rock; it connects w/ the audience's guts & brains and the critics really like it. X signs to Elektra ('cause The Doors & Phil Ochs did), make five more LPs, some videos, tour the US and Europe, appear on network TV, make a film (The Unheard Music), abuse body & soul, write about it, connect w/ more & more varied audiences and the critics move on to someone new.
By now (1988) JD has been in some films, taken some acting classes so as not to completely embarrass himself, signed to DGC as a solo artist, re-married and had a child.
Finding Los Angeles no longer inspiring, he moves "to the sticks", records Meet John Doe (while X takes an overdue vacation), tours the US again, makes more movies, adds another child to the same family, more documentation of relationships through songs and thinks about X playing again. Two records by X are released, last child born (same family), JD releases KISSINGSOHARD on Rhino, more writing w/ new intensity and acting serves as main expression/career. Frustrated by new label search, Kill Rock Stars comes to rescue and releases For the Rest of Us (1/98), touring & yet more songwriting.
More acting including Forces of Nature, Carrie 2 (The Rage), Sugar Town, Roswell (just cancelled, the alien-teens found a way home), The Specials, Gypsy '83 & The Good Girl. Freedom Is . . . on spinART is released 7/00 and lovely touring goes off (heartfelt thanks to all who attended). Search for greener pastures begins.
So ends this chapter of the John Doe string of lies.
--- John Doe 7/14/01