Joe Escalante

Band: The vandals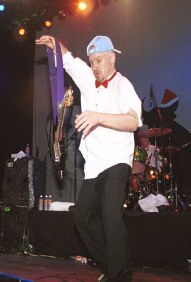 Owner of Kung Fu Records and Kung Fu films, Internet Television's Brian Gomez He is the most funny punk that I ever seen in my life when he was in the Warped tour and he start to dance like B.S o that was funny dude.
Hang's Out At:
Club 33, Trader Vic's, Mann's Chinese Theater, Musso And Frank's Grill, The Pig, Roosevelt Golf Course
Favorite Places to Play live at:
Rome, Japan, Orange County.
Watches these T.V. Shows:
The O'Reilly Factor, Space Ghost, The X Files,Saved by the Bell, 20/20, Mr. Show, Get a Life, Leave it to Beaver, Lancelot Link-Secret Chimp, The New Leave It To Beaver, Betty La Fea, Tenacious D, California Gold with Huell Howser, Conan O'Brian, Xena, Jackass, Tendido Cero, The Rifleman, Lost in Space, The Iron Chef.
Listens to these radio shows/stations:
KFI:PHil Hendrie, Dr. Laura, Rush Limbaugh KROQ: Zeke, Kevin & Bean.
Favorite Movies are:
Bring it On, Gummo, High Noon, Hidden Fortress, The Little Fugitive, Deliverance, Something About Mary, Take the Money and Run, Lost In America, Year of the Dragon, Bottle Rockets, Ruben and Ed, Little Noises, What's Eating Gilbert Grape, King of the Hill, Ed Wood, Brain Candy, The Barefoot Executive, Rascal, any movie with a monkey in it, Tampopo, 20,000 Leagues Under the Sea, Deer Hunter, Apocalypse Now, virtually any Viet Nam Movie, The Party, The Producers.
Eats at these Restaurants:
Trader Vic's, Musso and Frank, Ruth's Chris Steakhouse, A&W, Ole's Big Game Lounge in Nebraska, The Hunan on Sansome in S.F., Blue Bayou, Pacific Dining Car.
Books that he likes are:
Official Negligence, Beautiful Wasps Having Sex, What Makes Sammy Run, All I Need to Know About Filmmaking I Learned From The Toxic Avenger, Into Thin Air, A Perfect Storm, Roughing It by Mark Twain, The Bible, Inside The Third Reich by Albert Speer, Fear and Loathing, Agony and the Ecstasy, Bonfire of the Vanities, Michael Jackson Was My Lover, The Magas, any Icelandic Sagas.
Hobbies he enjoys are:
Golfing, Bullfighting (Joe's a student at the California Academy of Tauromaquia)Movies, Reading, TV, Log Home Living Magazine, Ballroom Dancing, Soundscan, Flashlight Collection.
His Motto in life is:
"If it doesn't kill me, it will make me more punk."
Awards he has recieved are:
B.A. in Old Norse, UCLA, 1985
J.D. Loyola Law School, 1992
Western U. Law Review 1996. ASCAP, BMI, and the Sherman Anti Trust Act: Are Today's Top Stars In Bed With The Blanket License?
RIAA Gold Record for writing Oi To The World, recorded by No Doubt
RIAA Triple Platinum Record, Sublime's Sublime: As attorney for Sublime/Skunk